Good evening :) what a wonderful day we have had here!
All we are midway through the Birthday season here and so it came time for our annual "Birthday Funday" so we took ourselves off to Thomas Land.
Oh how much fun did the children have! although they were not overly co-operative with the photographs! Heres a few the Unconventional husband got!
and after stormforce I convinced the biggest unconventional child to go on with me ;)
not very happy is she... thankfully it was a warm day and we dried out quickly :)
and always nice to have a sleeping baby on your back, especially when that baby is 2 years old and as light as a feather in a wonderful bamberoo ssc ;)
I see the tomato ketchup as a sign of a happy child ~laugh~
so.... after all that excitement we came home, had a water fight which of course I won as the children had a squeezy water bottle each and I had the garden hose ! Bath time and bed for little unconventionals and then...
So tonight I have started spinning the most amazing fibre I have ever spun!!! it is simply gorgeous.
Its "sixth sense" naturally dyed by My Heart Exposed and you can see it here
Its Shropshire lamb fibre and I have about 120g of it to spin :)
So out came Bertie... and here we go attempting to spin it softly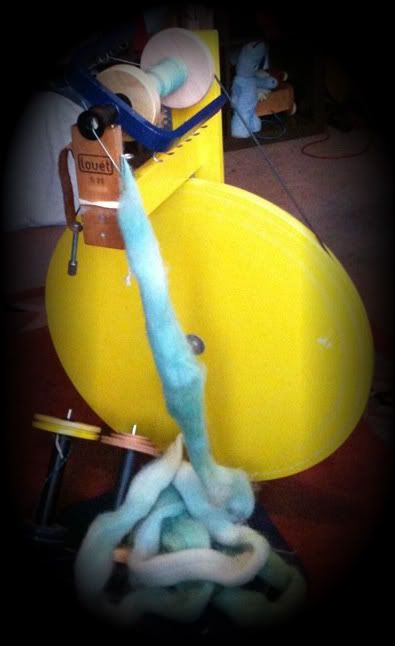 I am also trying not to go too fine... trying to keep it a bit thicker than my recent yarns and so far so good, spun about 40g tonight it is beautiful and the photographs simply do it justice!
heres a close up of the bobbin
and the other half of the fibre wound in a ball as I split it length ways so I will end up with a lovely 2 ply yarn once I have finished
~sigh~ So that is that... tomorrow I have a big day and I'm unsure how much spinning I shall get done but we will see.
Hope you all had a lovely weekend